This weekend was a wonderful experience for my daughter Jardel and me. We attended the Millionaire Business Bootcamp here in Chicago. It was Jardel's first entrepreneurial event where she learned with mommy for 3 full days, and she was so excited! Not only did she get to sell and autograph her books, be interviewed on stage, and take a picture with my mentor Raymond Aaron, James Lafferty (CEO of Proctor and Gamble and Coca-Cola Nigeria), and Ernesto Verdugo (Internet Marketing Guru), she also entered into a contest.
So my coach was giving away 2 iPad Minis. On the first day, Jardel told me she really wanted to win the iPad Mini, and asked what she had to do. The contest consisted of creating a video, testimonial, or anything creative about the Millionaire Business Bootcamp. Now, Jardel is the type of girl who doesn't particularly like to be on camera nor does she like to compete in "fear" of not winning. I have been instilling in her that as long as she does her best, she IS a winner. This contest was different though. It's as if she kept her eye and her mind on the goal, and there were no obstacles. She was eager to win the iPad Mini. Interestingly enough, we were learning about goals. My coach Raymond says, "Obstacles are the ugly things you get to see if you take your eyes off the goal." These ugly things are not real. They are all in our minds. So Jardel's fears were not even obstacles anymore because she didn't take her eyes off the goal…the iPad Mini. She really wanted to win that she asked, "How can I win?" and "What kind of video can I create that will win?"
Watch her video below…
Did she win? Of course! Here she is so happy with he new iPad Mini. She earned it!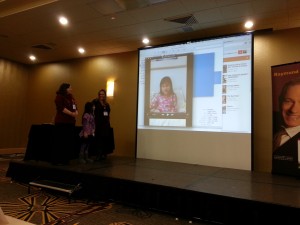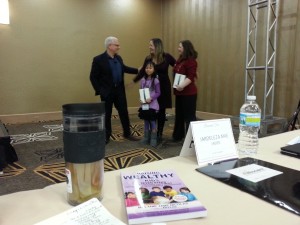 In our camps, we teach kids how to set goals and encourage their minds to never give up. 90% of winning in life is all in the mindset. Parents also need to watch what they say, do and experience around their kids because, let's face it, we are their role models. Our actions need to be intentionally congruent with our values. This weekend was definitely an experience Jardel will always remember!
To You and Your Wealthy Kids,
Melanie Jane
P.S. For a fun experience with your kids so that you can learn about wealth together, come to our next KWIC Money Smart Mini-Camp on March 25-27 at Naperville Safety Town. Click HERE for more details